For most homeowners, the backyard is a place to gather with friends and family to relax. They might have a deck, patio or an open grassy area with some sun and some shade. Create a place where people can sit and relax. Choose a theme, coordinating colors and materials. Choose comfortable yet sturdy furniture that can handle inclement weather. There are many different styles of chairs that can be used with outdoor furniture and other elements to create a relaxing atmosphere. Consider how many people will gather and what types of activities they might like to do in the backyard space.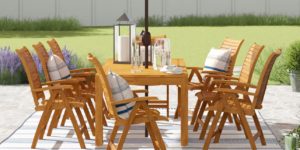 -Loungers
Lounge chairs are versatile for sitting upright or for sitting back and stretching out the legs. Loungers can also lie flat for sunbathers or nappers enjoying warm weather. These are especially popular poolside, but are versatile enough for nearly any deck, patio or grass area.
-Benches
For a more formal atmosphere, such as a garden or a gazebo, use benches that seat two or more people. They come with and without backs and arms, depending on personal preference. Backyard furniture comes in a variety of materials, and benches are no exception. Consider wrought iron, resin or aluminum for sturdy seating.

-Wheels
For a more versatile seating arrangement, choose seating and lounges with wheels. They roll best on a flat surface and allow guests to move closer to their friends or add another person to the social circle. Wheeled lounge chairs are convenient for sunbathers who want to rotate which direction they're facing for optimal tanning as the sun moves across the sky.
-Chairs
When choosing what type of chairs to buy, consider whether they should have arms or not. When paired with a table, use chairs with or without arms. For casual group seating on the grass or patio without a table, however, armrests will offer support for the guests' elbows and forearms. Use coordinating tables beside the chairs in group seating for guests to set down food and beverages. Another option is cushioned seating. Decide how comfortable the chairs are without cushions. They may be added to encourage people to sit for a while or to match the rest of the outdoor decor. Chairs with separate cushions allow the updating of the patio set by replacing just the cushions.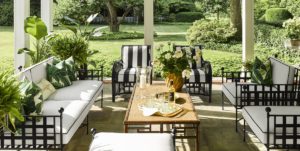 -Rockers
For the ultimate in relaxation, count on the rocker. The gentle motion creates a calming atmosphere. Rockers typically come in single or double seating. Wood, resin and other outdoor materials are easy to clean and come in a variety of colors. Most styles have high backs to encourage the people using them to sit back and relax as they rock. When choosing outdoor seating, use backyard furniture that fits the space and adds to the relaxing atmosphere. Seats should match the decor and coordinate with the theme and color scheme. Choose pieces based on location and activities to create the best use of outdoor furniture.